Cloudflare API Console for DNS Records
(Bulk add Domains using Cloudflare API & Bulk Add / Bulk Edit DNS Records using Cloudflare API)
This software enable you to bulk add domain names into Cloudflare and update DNS Records via Cloudflare API under Windows platform.
Imagine that you have hundreds domain names parked at Cloudflare, you want to add TXT records into some of your domains for the purpose of domain ownership verification.
I assure you that you will not want to go through all the steps via the web interface, you need a powerful tool with GUI to help you get the job done.
Feature
Bulk Add / Delete Domains via Cloudflare API
Bulk Add, Modify and Delete DNS Records using Cloudflare API
Easy to use interface to Add / Delete DNS Records to all domains or to certain domains which meet certain conditions.
Bulk Add DNS Records using template (Advanced Mode)
Preview the changes and the API requests that will send to the Cloudflare server before it actual happened.
Option to save the Login details, all the settings file will be generated under the same folder of the program.
100% Clean – No Spyware, No Adware.
One time fee, no subscription is required. Minor updates are always free.
Support Windows 7, 8.1, 10 and corresponding version of windows server.


Known Issue
Cloudflare have a API rate limit of 1200 requests for every 5 minutes. The software has implement a check for it and you will able to send 1100 requests per 5 minutes.
When you hit the API limit, the program will pause sending API requests. When the sent request(s) had passed its 5 minutes time-frame, the API limit quotas will be released, then the program will resume to send the remaining API requests.

Cloudflare also have a API rate limit on how many domains you can added into Cloudflare per hours. Our software has implement a rate-limit check to comply with the rate limit (Able to add 50 domains per 30 minutes).

How To Use Cloudflare API Console (Guide)
=======================
Screenshot
Bulk Add / Bulk Delete Domains via Cloudflare API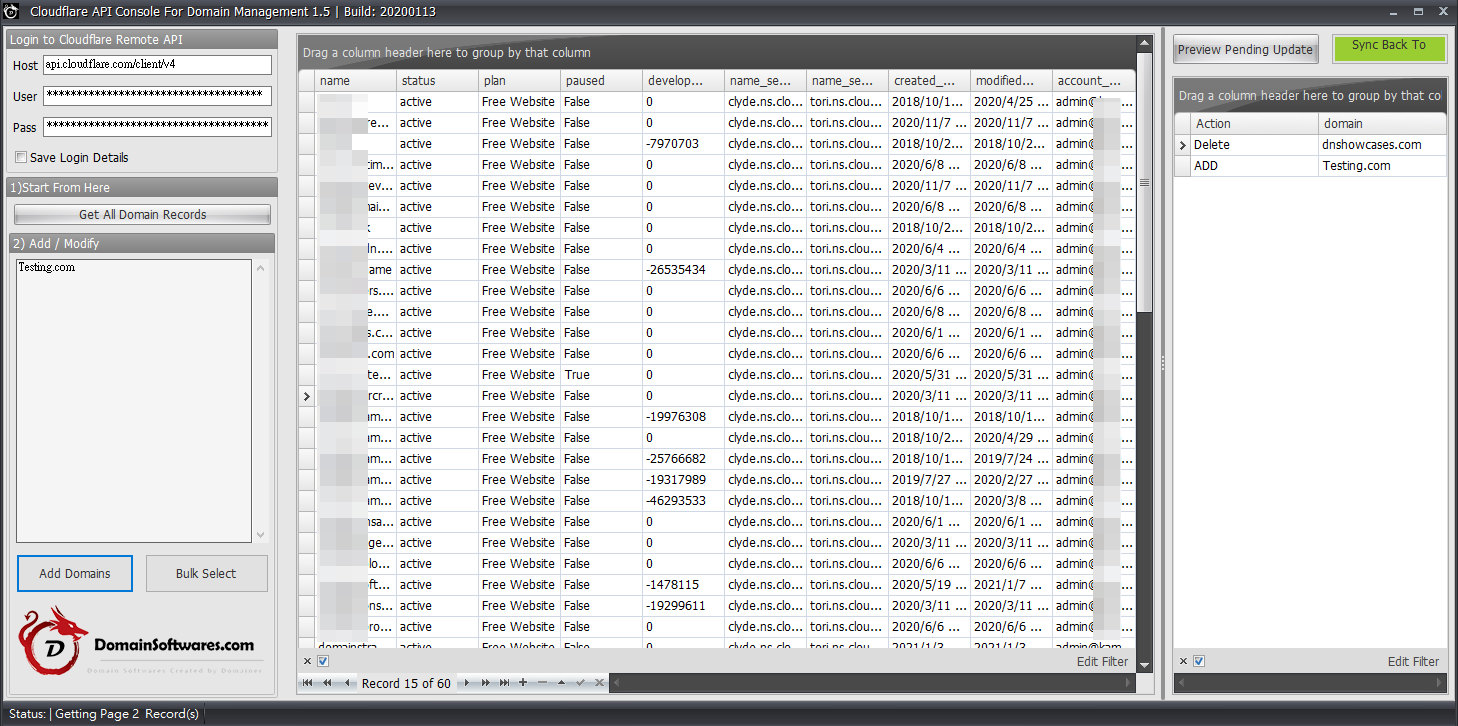 Bulk add, Bulk modify and bulk delete DNS records via Cloudflare API.
In Below example, we try to remove all TXT Records from all domains.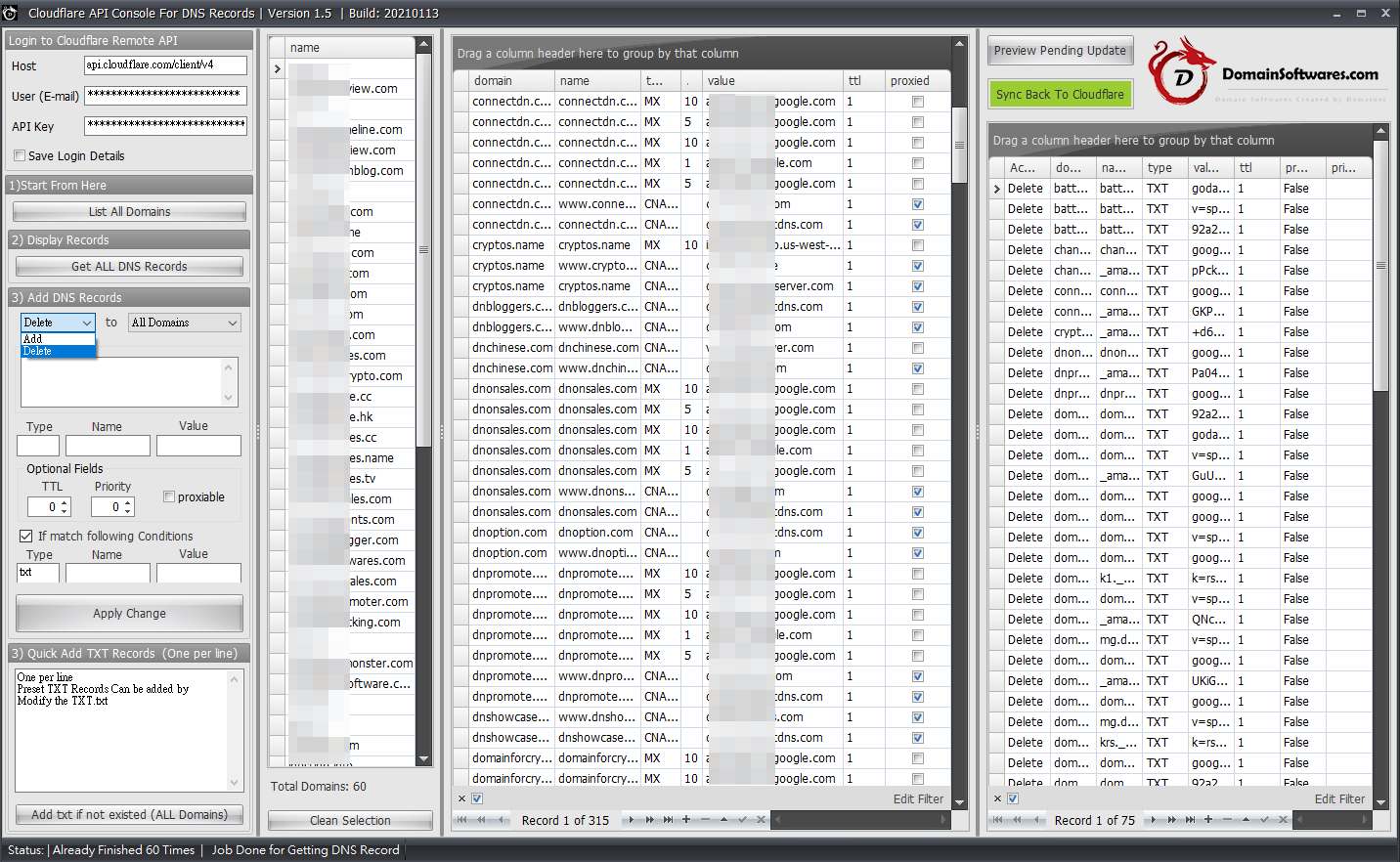 Bulk Add MX Records via Cloudflare API under Advanced Mode
We use @ as name so we can reuse it as template for other domains.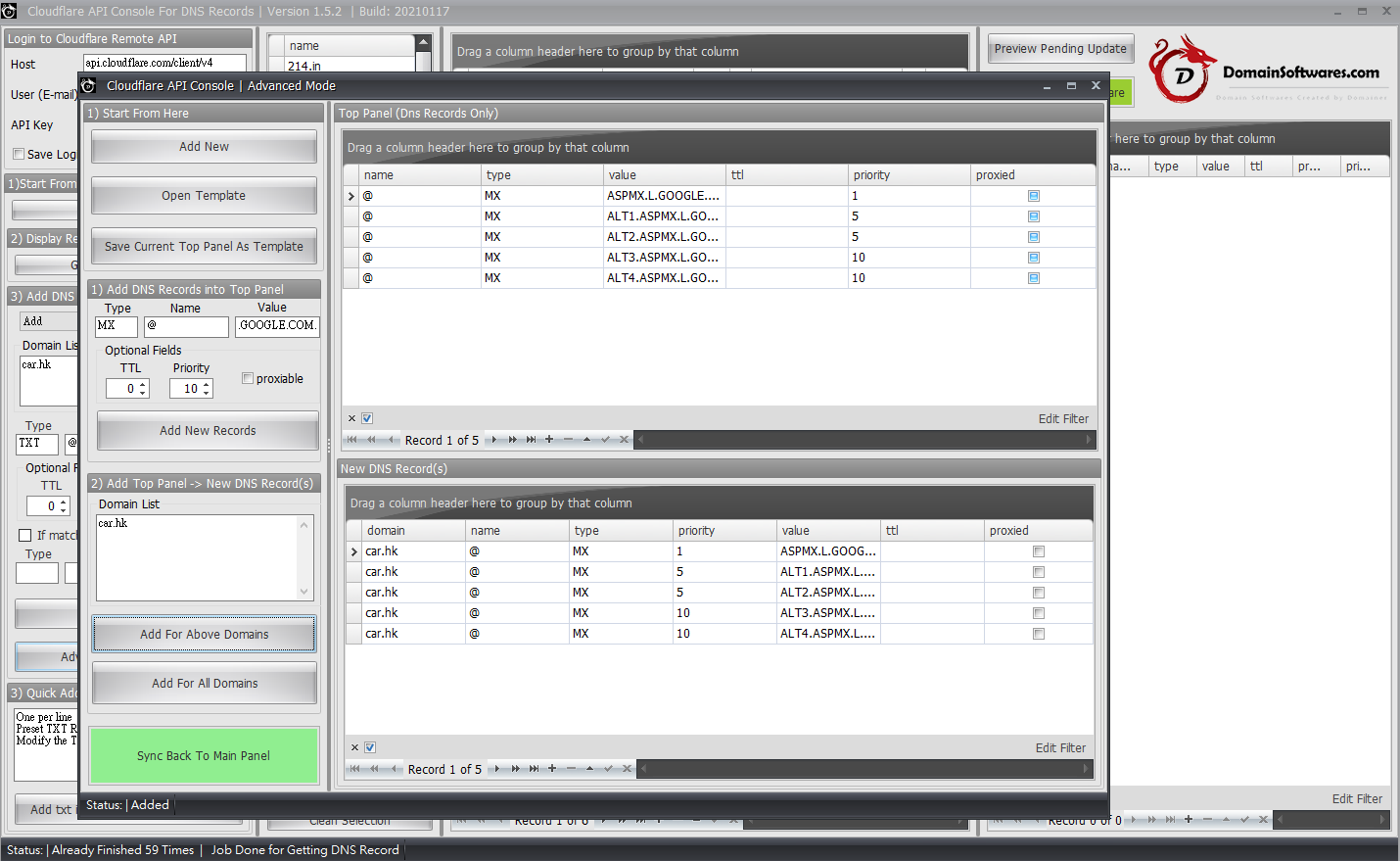 Sync Back to Cloudflare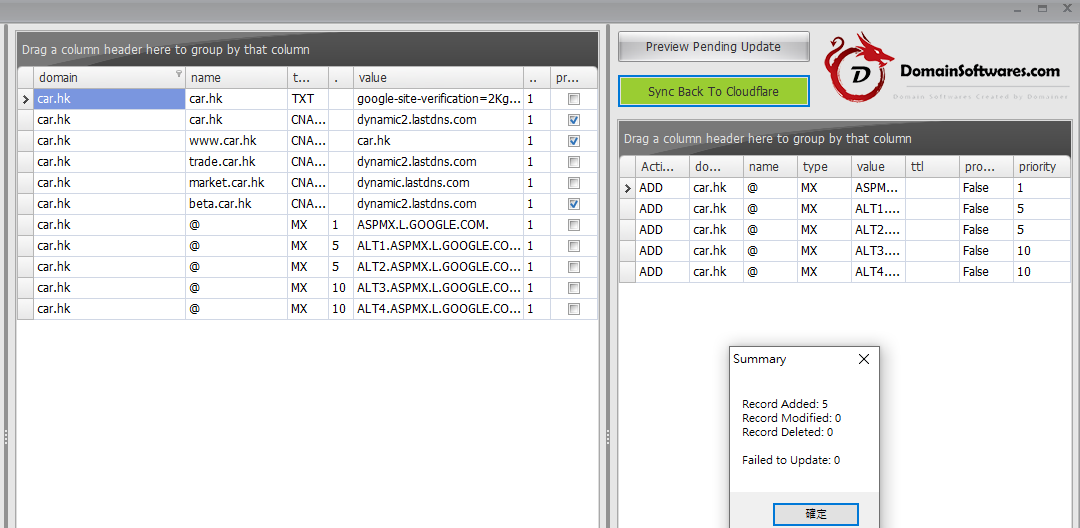 With this software, you can managed 1000+ domains DNS Records using Cloudflare with ease.